Okayama University International Alumni Association (OUIAA) postponed its General Meeting which was usually held in October and held its 10th General Meeting online on Thursday, January 7, 2021 due to the COVID-19.
After the opening remarks given by Dr. Myo Khin, Chairperson of OUIAA, President MAKINO Hirofumi, Okayama University, delivered a short speech. Then the guests of honor, Dr. Utak Chung and Dr. Bui Thien Thu, who were newly appointed as Project Professors of Institute of Global Human Resource Development, Okayama University, gave a few words to those present.
In his speech to the attendees, Dr. Utak Chung proposed some ideas to promote SDGs. Dr. Bui Thien Thu talked about his ties with Okayama University. They both stated that they would like to continue to actively cooperate with the activities of Okayama University as Project Professors.
This year, two students participated in the meeting as interpreters. After deliberation regarding the appointment of Executives, the newly appointed Project Professors and Special Ambassadors of Institute of Global Human Resource Development were introduced to the attendees. Three representatives from the OUIAA branches(Prof. Guo Yanping, Director of Changchun Branch, China, Dr. Anna Dzienis, Director of Poland Branch, Dr. Willis Owino, Vice-director of Kenya Branch) reported on the COVID-19 related current situation in his/her country and the participants of the meeting actively exchanged information.
The General Meeting was closed with a speech by Prof. SANO Hiroshi, Executive Director for Academic Affairs and Provost, Okayama University. The General Meeting, which was held online for the first time, was attended by many members of OUIAA from all over the world, strengthening the partnership among Okayama University and the OUIAA branches.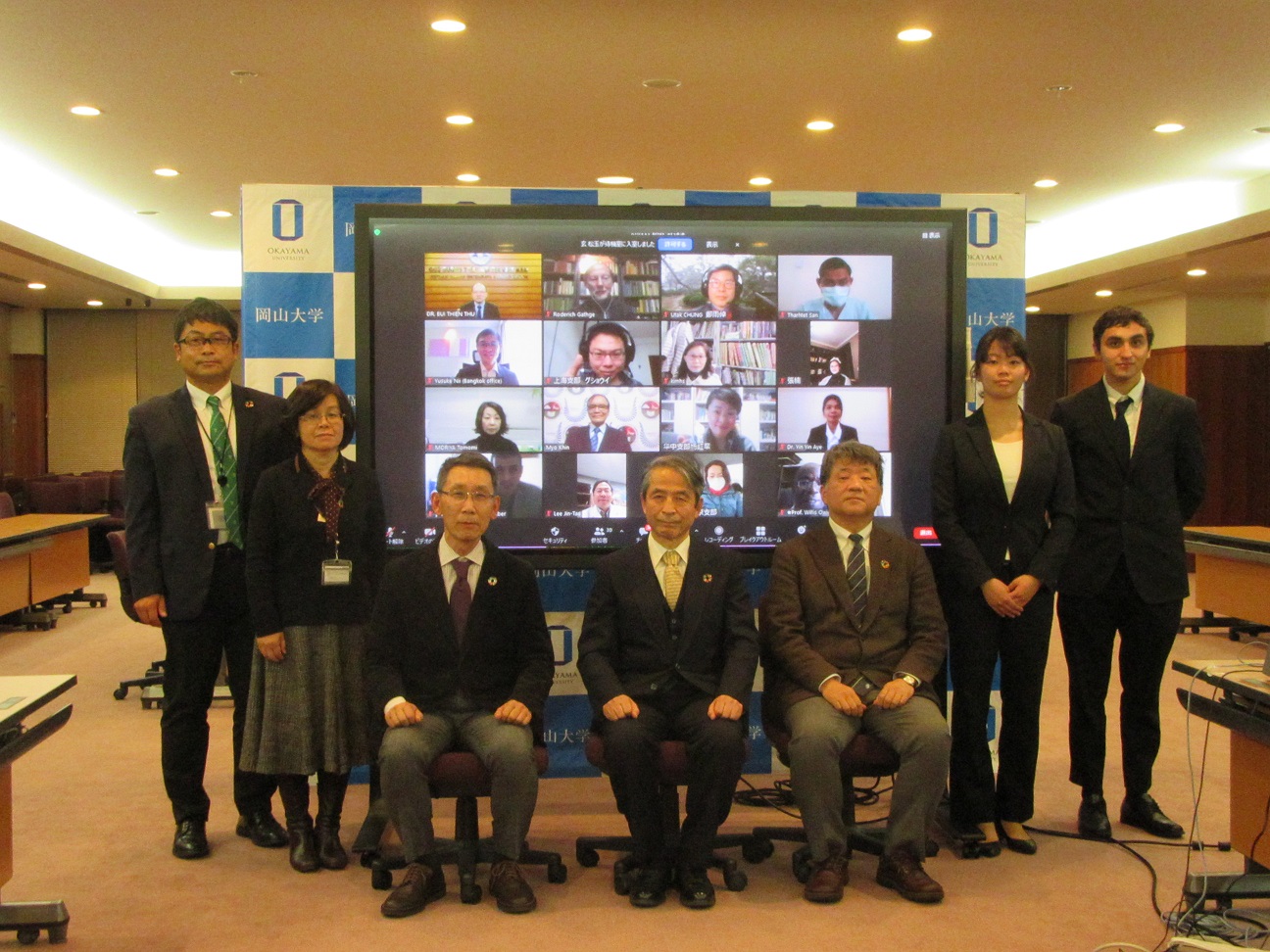 ※Participants (20 people from 12 branches)
Shanghai Branch (1), Changchun Branch (3), Dhaka Branch (1), Central China Branch (4),
Pusan Branch (1), Beijing Branch (1), Dalian Branch (1), Egypt Branch (1), Myanmar Branch (1),
Kenya Branch (1), Poland Branch (1), Mandalay Branch (4)
※Total number of participants:Approximately 40 people(incl. Guests of Honor and attendees from Okayama University)