Overview of the OUIAA
Members of OUIAA are international students and faculty staff who have resided at Okayama University. OUIAA establishes branches all over the world in order to promote friendship and exchange information with Okayama University / other alumni members.
As of April 2021, there are 55 branches (including 7 Communication Bases) in 28 countries.
Branches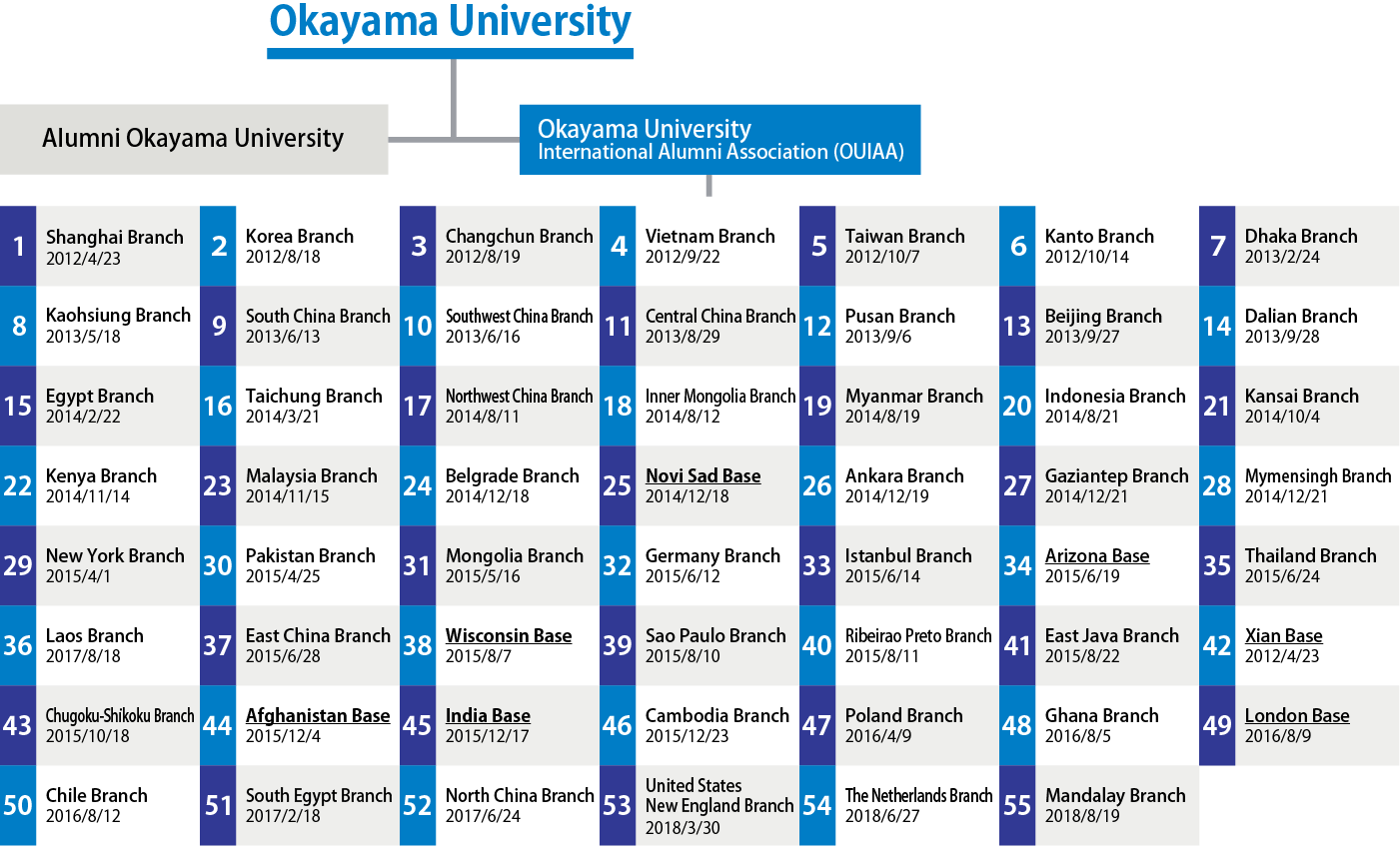 OUIAA Advisor, Executives and Auditors
■Advisor
| | | | |
| --- | --- | --- | --- |
| Title | Name | Nationality | Affiliation |
| Advisor | Makino Hirofumi | Japanese | President, Okayama University |
■Executives
Term: April 2021~March 2023 (2 years)
Title
Name
Nationality
Affiliation
Chairperson
Myo Khin
Myanmar
Director, Myanmar Branch, OUIAA
Vice-chairperson
Guo Yanping
Chinese
Director, Changchun Branch, OUIAA
Suzuki Takayoshi
Japanese
Vice President for International Affairs,Okayama University
Director, Institute of Global Human Resource Development,Okayama University
Professor, Resesearch Institute for Interdisciplinary Science, Okayama University
Executive for General Affairs
Huang Peng
Chinese
Assistant Professor, Academic Field of Medicine, Dentistry and Pharmaceutical Sciences, Academic Research Assembly, Okayama University
Executive for Accounting
Moriya Tomomi
Japanese
Associate Professor, Institute for Education and Student Services, Okayama University
Executive for Public Relations
Kim Hye-Sook
Korean
Associate Professor, Academic Field of Medicine, Dentistry and Pharmaceutical Sciences, Academic Research Assembly, Okayama University
■Auditors
Term: April 2021~March 2023 (2 years)
Title
Name
Nationality
Affiliation
Auditor
Gathge Roderich
German
Former Professor, Graduate School of Humanities and Social Sciences, Okayama University
Song Hequn
Chinese
Staff, Okayama University Office in Changchun, China